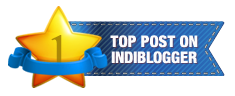 As a little girl, I dreamed .. and I dreamed. And those dreams were BIG! - I would be the richest person in the world, or the most powerful; I would be a superstar or a superhero (heroine in this case); I would bring about peace in the world or would eliminate poverty.
As you can see, my dreams were maybe unrealistic, but they were precious to me. I compare what I am today to those dreams, and I guess I have achieved not even a fraction. But when I really think about it, I have achieved so much more....
I had to leave my dreamland and face reality once I finished college. I was in my early 20s and looking forward to further studies - I wanted to do an MBA. But there was a shock waiting for me. My mom had started scouting for a husband for me (In a gujarati family, early 20s is the perfect age to get married and settle down). I was working at a local firm, wanting to gain some experience before my MBA. And here it looked like I would be shackled for life!
It was not easy convincing my mom that I wanted to study further before I even thought of settling down. But thankfully my dad listened to me and gave me one year. If I got into a good B-school within a year, then fine, else it was marriage. Mom agreed as well.
The rest as they say, is history .... I worked hard for the entrance exams and got into one of the really good B-schools in India. This made my parents proud and they were happy to let me leave Mumbai and move to Gurgaon for 2 years of MBA. My experiences at the B-school helped me to grow up, to become strong and independent and to look after myself.
After MBA, I landed a good job with a finance company. By then, I had also fallen in love with my husband (then boyfriend). After a couple of years, I got married and started my new life. But there was no happily ever after. There never is in real life. There were of course, the little and big problems that plague every marriage. In marriage, you learn to compromise even if it does not make you happy; you also learn to put another person's happiness before your own. So basically it was more growing up for me :-)
I also had to handle both sides of the family - see that both families got sufficient time while at the same time, my job became more demanding. There were some complications on my side of the family as well. And to top it all, my mom had to undergo bypass surgery and my dad also had a surgical procedure. All of this drained me emotionally and physically. At this time, an opportunity came to spend 6 months in Tokyo, and I took it - with blessings from both families.
Those 6 months of solitude helped to rejuvenate me. I had enough time to think and analyze where my life was going and whether I was happy with the turns that I had taken. I realized that in doing my job, spending time with the families, and riding through the rocky road of marriage, I had lost myself. I was not doing anything that I liked - I was just living each day, coping with demands.
I came back from Tokyo a calm person. I knew what I had to do. Of course, I had to continue working, continue working on my marriage, continue providing all the support to both my families - but at the same time I had to make time for myself. And that's when I started this blog. I love clothes, and I love travelling. But there were not many people that I could share these passions with. So I decided to share these passions with other like-minded people through this blog.
And I must say, it was the best decision. The blog started as a way to catalog my clothes and hopefully find some people who would like my style. But what I did not expect was how much I would grow through my blog as well! Not only has my style evolved, but I have also made some great friends in the blogging world. At the end of a busy day, when I go through my blog and read all the comments, it helps me forget all my troubles and just be happy.
Now I cannot imagine my life without this blog. Today, I am daughter, a wife, a daughter-in-law, an aunt, a worker bee, and many other things. But I am no longer lost in these titles. I am also me :-)
And the best thing - I went against my parents' wishes and first pursued my dreams (MBA). I knew they were not very happy then (of course they thought they knew the best thing for me - all parents do). But today, my parents are very happy and proud of me - they are proud of my degrees, my job, the guy I chose as my husband, and they are also proud of my blog.
And I have realized that there does not need to be an "OR" (be a wife or be successful at my job). I can be everything I want to be (wife AND manager AND daughter AND blogger) and so much more :-)
This post is a part of #UseYourAnd activity at BlogAdda in association with Gillette Venus