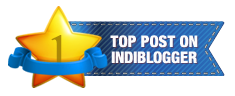 I put on this outfit for meeting some friends recently, after which we went for dinner. I bought the dress during the August sales because I fell in love with the cotton fabric and the cut of the dress. Very rarely do I get dresses with a flare which do not make me look like a kid :-p
I accessorized the dress with a white crystal necklace from Aldo and my silver sandals. And to provide a contrast, I paired the outfit with this lovely orange purse I received from Blackfive. This vintage embossed PU-leather purse is definitely attention grabbing, and also perfect for carrying all the stuff that a lady generally 'must have' :-D It comes with a longer strap so that you can carry it cross body. And whats more, its available in 6 different colors! So check it out at Blackfive.
So what do you think of my OOTD?
PS: You will be seeing a lot of these silver sandals in coming posts ;-)
Dress - Black Soul (in R-City mall)