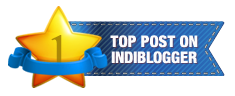 I have mentioned it on my blog before - I love the second half of the year. Why? Because of the festivals and the holidays!!! In India especially, there are so many festivals in the second half, including the biggest one of all - Diwali!
Diwali is a festival of lights. It celebrates the triumph of good over evil. Traditionally it was celebrated by lighting oil lamps inside and outside the house, visiting relatives and eating loads of sweets. :-) The festival has gotten more commercialized now - electric lights, too many noisy crackers, and not enough family time. But I still celebrate it in the traditional way by lighting lamps and spending time with my family.
In the bygone days, when people were not very rich and there was not loads of money to throw around, Diwali was the one time in the year when everyone got new clothes and wore it on the day of Lakshmi Puja. I remember my mom's stories - she used to be so excited to get the first of her two new dresses of the year during Diwali (the other was for her birthday). :-)
Obviously, now we get new clothes whenever we like. But still there is something special about the new clothes that you get for Diwali. And there are so many options available - both in stores and online!
I have been a big fan of Myntra since the first time I shopped there. They have a varied collection of clothes, shoes, accessories and bags for both men and women, and their customer service is par excellence. I have featured stuff that I have bought from Myntra in my blog (see here) and have many other such posts coming up.
So I was browsing Myntra to see what they are offering for Diwali and I was as usual stuck to the website for ages! A huge range of sarees, salwars, kurtis and lehengas - from the simple to the ornate. And also a wide variety of accessories to go with each outfit. No wonder I am hooked to Myntra.
I have made a collage of two of my favorite outfits from their website. Would love to know which one you like best! :-)
PS: Click on the links to know more about each outfit.
Look 1: Very traditional in bright colours and a lot of gold.
Look 2: More contemporary with lots of colour (Colour is the essence of Diwali)